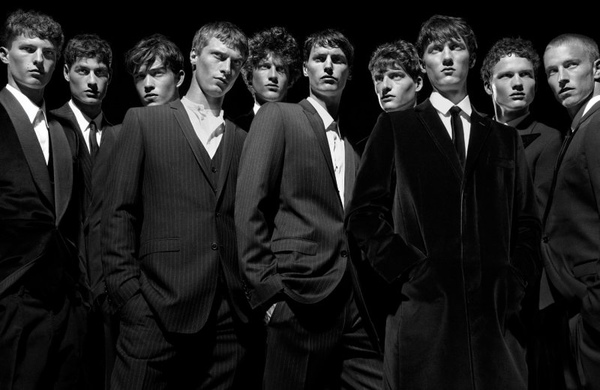 Cast整個也太優秀...............
來來來 來猜人吧!!!!這些都是當紅的男模啊啊啊啊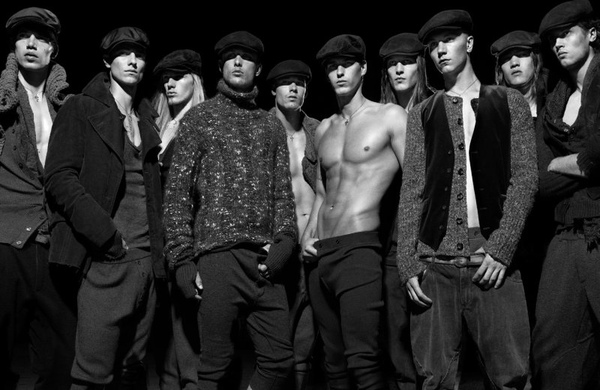 我很懷疑,我真的很懷疑................
中間露肉那個人為什麼長得這麼像Mathias Bergh...但我記得他是瘦弱紙片人啊...
事實證明,他是Brad Alphonso....
Dolce & Gabbana Autumn/Winter 2010 collection

Gloves: Haley Pisaturo.
Hair products: Redken, including Urban Experiment Grit Wax.
Fragrance: The one for men by Dolce & Gabbana.
Hair: Sandy Hullett and Anthony Turner.
Makeup: Maki Ryoke/Tim Howard Management.

Models:第一張 (from left): Paolo Anchisi/Ford, Matthew Coatsworth/Major, Francisco Lachowski/Ford, Clement Chabernaud/Wilhelmina, Max Motta/Ford, Mathias Bergh/Wilhelmina, Niels Raabe/DNA, Tyler Riggs/Red, Simon Nessman/Major, and Rodrigo Calazans/Next.
第二張(有露肉體的那張)(from left): Mark Cox/DNA, Michael Wozniak/Ford, Berthold Rothas/Fusion, Laurent Albucher/Request, Brett Reeves/NY Models, Brad Alphonso/Wilhelmina, Ian O'Brien/Ford, Yuri Pleskun/request, Marcel Castenmiller/DNA, and Taylor Fuchs/Wilhelmina.
Casting: Michelle Lee/KCD Inc.
set design: Jesse Kaufmann.
Stylist assistants: Karen Kaiser, Elin Svahn, and Matthew Tauger.
Special thanks: Fast Ashleys.
source: thefashionsito